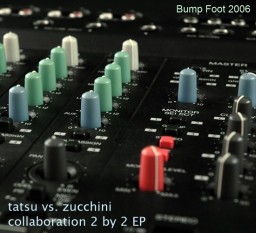 Release notes
This is the first release in 2006. This time, zucchini and label organizer tatsu made this collaboration. The EP begins with tatsu's "come in...", which has somewhat jazzy mood. And zucchini's minimal house tracks follow. This EP ends with "can I touch it?" by tatsu, shuffle beat.
Reviews
Bump Foot is quickly becoming one of my favorite netlabels. Their latest release features tracks from label founder, Tatsu, as well as collaborator, Zucchini. I almost picked Tatsu's "Come In" for this feature, but I got caught up in the catchy chords and minimal electro style rhythms in "Walking Around".
Da gibts nichts zu Rülpsen: Leicht tanzbarer und interessanter Sound von Bump Foot. Mediterane Zuccini leicht gebraten mit Salz und Pfeffer und ganz viel leckerem Olivenöl.
License
Track list
MP3, total time 26:40, total size 31.9MB
Misc