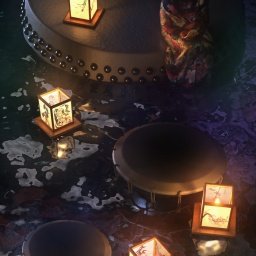 Release notes
Some of netlabel freaks know Renzu, who released "Reiha EP" from Monotonik. When I received his works, I was waiting for the time of this release. And now I'm delighted it has come finally!
Inn

You can hear a female say "koko wa doko deshouka?" ("where do you think this place is?) Where does she take us? Where is here?

Pictures of the Floating World

This could be the answer to the previous question. Ethnic and oriental, like Japanese, but it would be other than Japan.

Kuda-gitsune (管狐 : pipe-fox)

It seamlessly succeeds to the mood of this mysterious "World". Kuda-gitsune is a creature from legends : one of Yōkai (妖怪).

Omamori (御守り : amulet)

A mixture with Japanese sounds and rhythmic sequences. As we move towards the end, our minds get uplifted, higher and higher...

Amasawa

The title refers 天沢勇子 (Amasawa Yūko) from TV series, 電脳コイル (Dennō Coil). "The idea to use an arpeggiated glockenspiel in the song was inspired by series' music", Renzu said.

Zashiki-warashi (座敷童子)

It is a spiritual being, a kind of Yōkai, too. With this flowing 4-beats tune, it makes me feel like they are playing a trick.

Daifuku (大福)

We met unexpectedly. It was white, it was sweet. The wonderful time we spent together, but it didn't last so long. I can't forget you. I miss you. I want to see you again. My dear Daifuku... Joke.

Nakoruru (ナコルル)

You know her, if you are familiar with サムライスピリッツ (Samurai Spirits / Samurai Shodown). Slower, chilling and relaxing tune, with Japanese traditional elements.

Miku Acid

Well-processed tracks feature girlish vocal. This is especially for Japanese listeners. Who is Miku? Come on, you know it? Yes, she is, the one and only, 初音ミク (Hatsune Miku).

Stage

It may be night, but it changes suddenly. It takes us to somewhere another.

Across the Threshold

Here is the title track, purely electronic. Now we are far away from "the Floating World".

Memories of Earth

We are leaving from, or going back to where we live? I can't figure it out. All fades away...
License
Track list
MP3, total time 47:14, total size 76.1MB
Misc